We are happy to share with you our new baby food partner, YAMO. A Swiss brand founded by 3 young ambitious men who want to revolutionize the baby food industry with fresh and innovative recipes. We love their brand, their vision and are proud to share their story.
Don't forget to come visit us at the Geneva Street Food Festival, this Thursday 27th and Friday 28th of June at the Jardin Anglais at the Kids Corner (more information here). Come say hi and taste our YAMO pouches!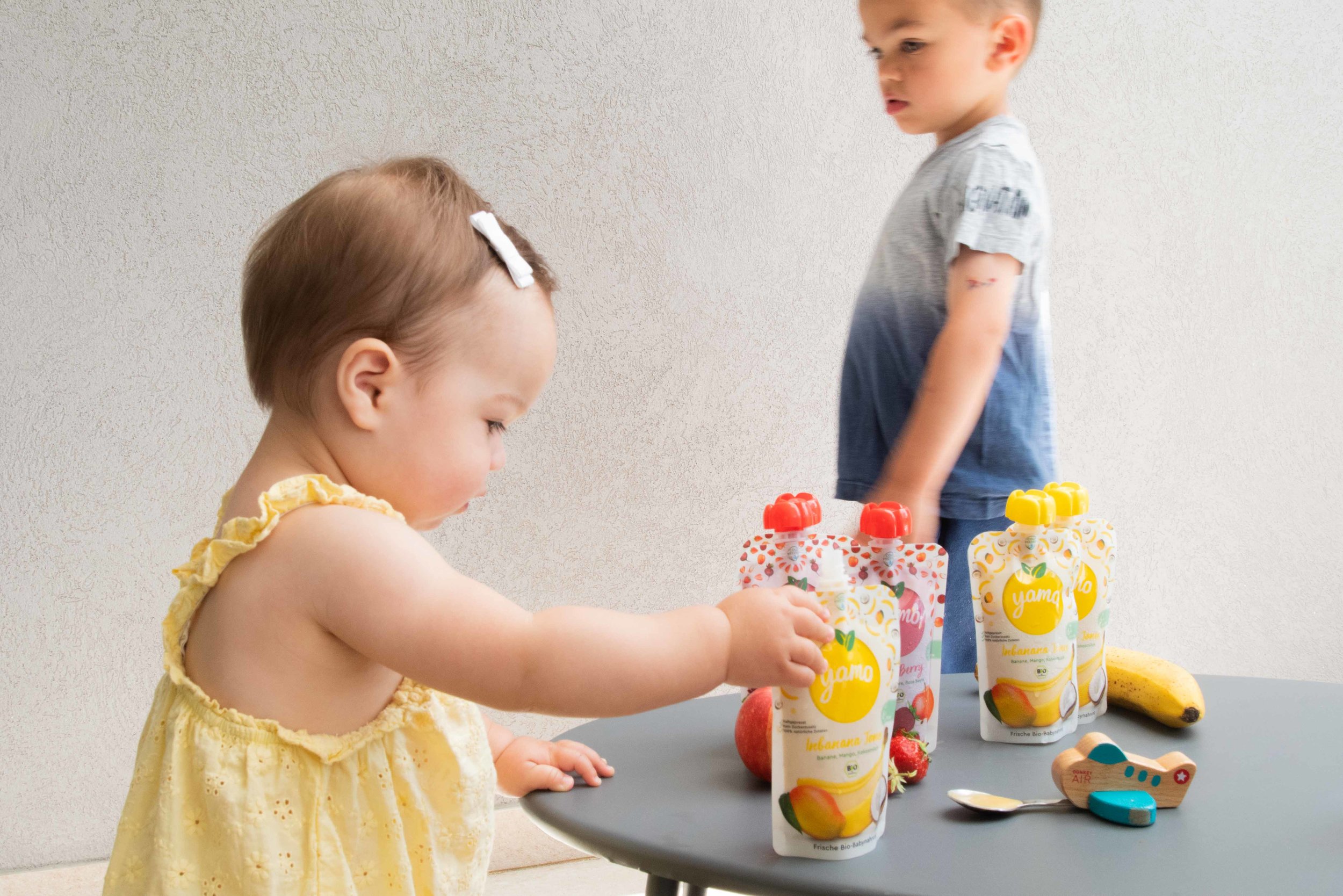 What is YAMO and how did this project come to life?
We founded YAMO in 2016 when we realized how parents need to take an active decision whether they produce their baby food themselves at home or buy it in retail stores. Both options come with downsides, as we learned from numerous interviews with parents. Preparing it at home takes a lot of time, which parents rather want to spend with their children. But many of the available retail products are heat sterilized causing the loss of heat-sensitive vitamins. Also the products are often shelf stable for years, which makes parents doubt the freshness and quality of the product. With YAMO we offer a solution covering both the advantages of convenience and freshness. And the best about it is that it really tastes as delicious and natural as homemade.
What's the difference between YAMO and other baby food products?
Most babyfood companies heat sterilize their products to increase their shelflife to up to 3-4 years. But at YAMO we believe baby food should never be older than the baby itself. This is why we became the first company in whole Europe to introduce fresh food for babies. Unlike contemporary baby food manufacturers, we don't sterilize our YAMO purees at high temperatures. Thermal sterilization not only destroys a lot of the vitamins but also the fresh taste and natural colors. For YAMO, we use the innovative and gentle technology of high-pressure pasteurization. Thanks to the use of pressure instead of heat, our purees still contain many of their vitamins, their fresh real taste as well as their natural colors. And that way, yamo can even be stored refrigerated for several weeks – without any additives at all. In addition to that, YAMO is 100% bio, all natural and produced in Switzerland.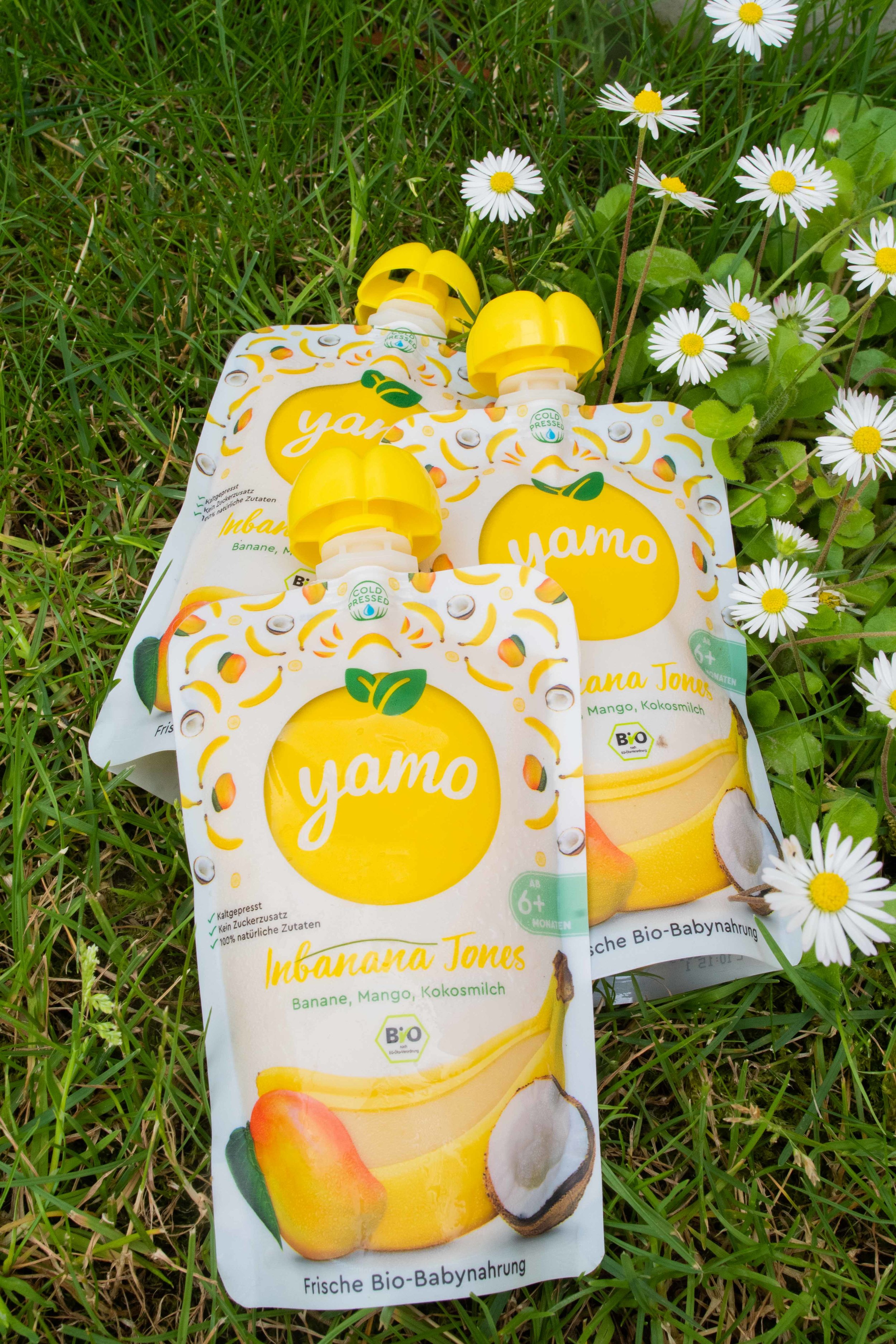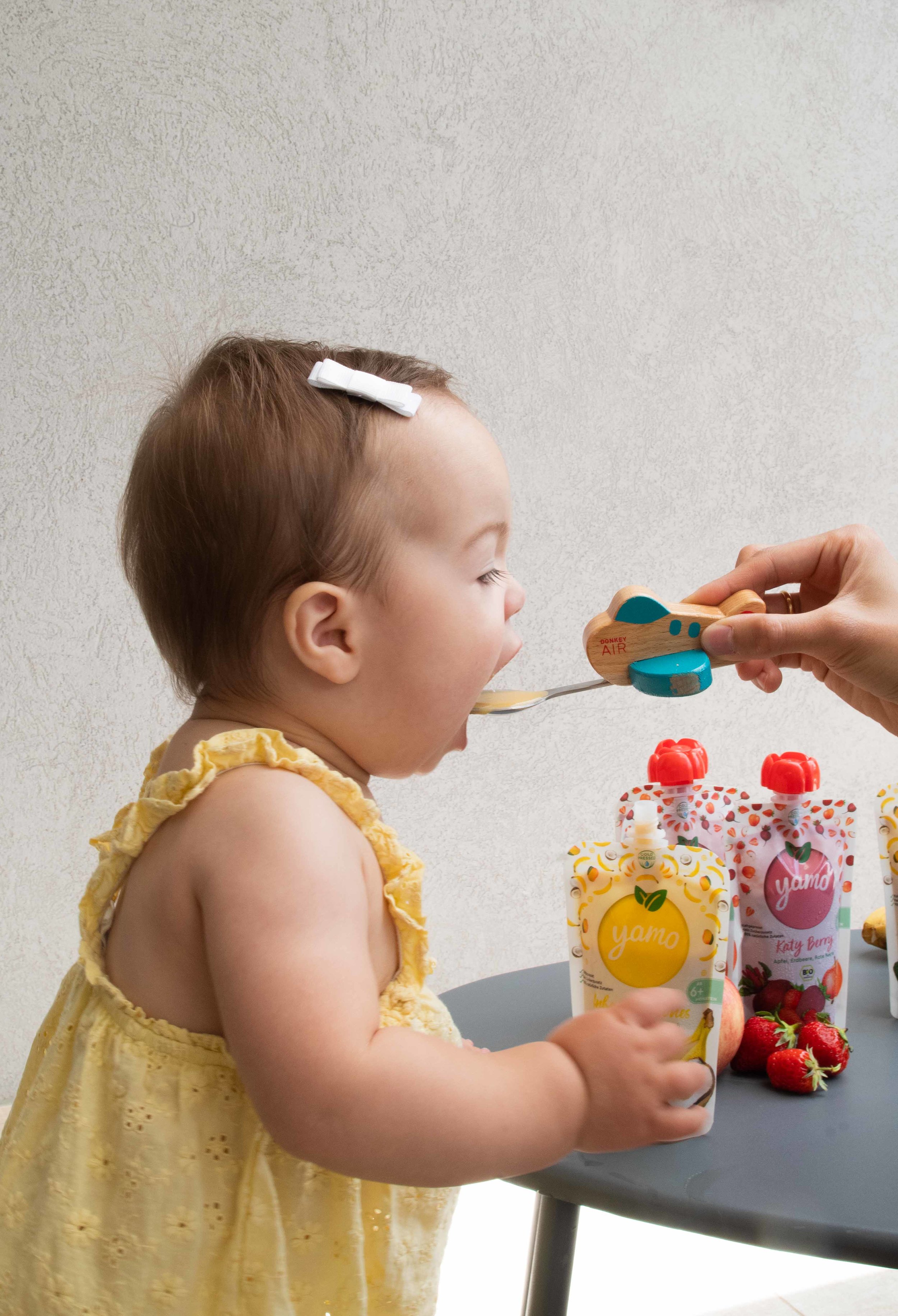 Why YAMO? What does it mean?
YAMO is a mix between "yam-yam", the sound we make when something is really delicious, and "amo", the Italian word for I love. Our hope is that one day babies will say YAMO instead of yam-yam when they really like something (laughs).
What products do you offer?
We started with 11 recipes, offering veggie and fruit purees in convenient ready to eat cups. Babies aged around 4-12 months eat them on a daily basis. It's the fresh alternative to common baby food glasses from the supermarket. Right now, we are launching our second product category, the pouches. Pouches are liked by many parents and babies, because they are very convenient and kids can easily hold them on their own while eating them. Like with our cups, we also introduce veggies in many pouch recipes. It's important that the children get to taste the real, fresh untreated taste of veggies and fruits from early on. The pouches are eaten by kids from 6 months up to 4-5 years. And in many cases, even by their parents (laughs).
Isn't it a little unusual to see 3 men with no kids found a brand for baby food ?
We are three friends, passionate about food, innovation and products which can change the world to the better. Tobi and Luca used to work together in brand management at their former employer, a big FMCG company. José, our food scientist, joined Tobi and Lucas growing idea to found a baby food business right after his studies and started working on the production and the recipes. We are a diverse but at the same time very aligned founder team. We don't think it's unusual to see three men with no kids founding a kids food brand. Sometimes it needs the "unspoilt outside perspective" to point the finger on something that doesn't really make sense anymore and that maybe needs an innovation.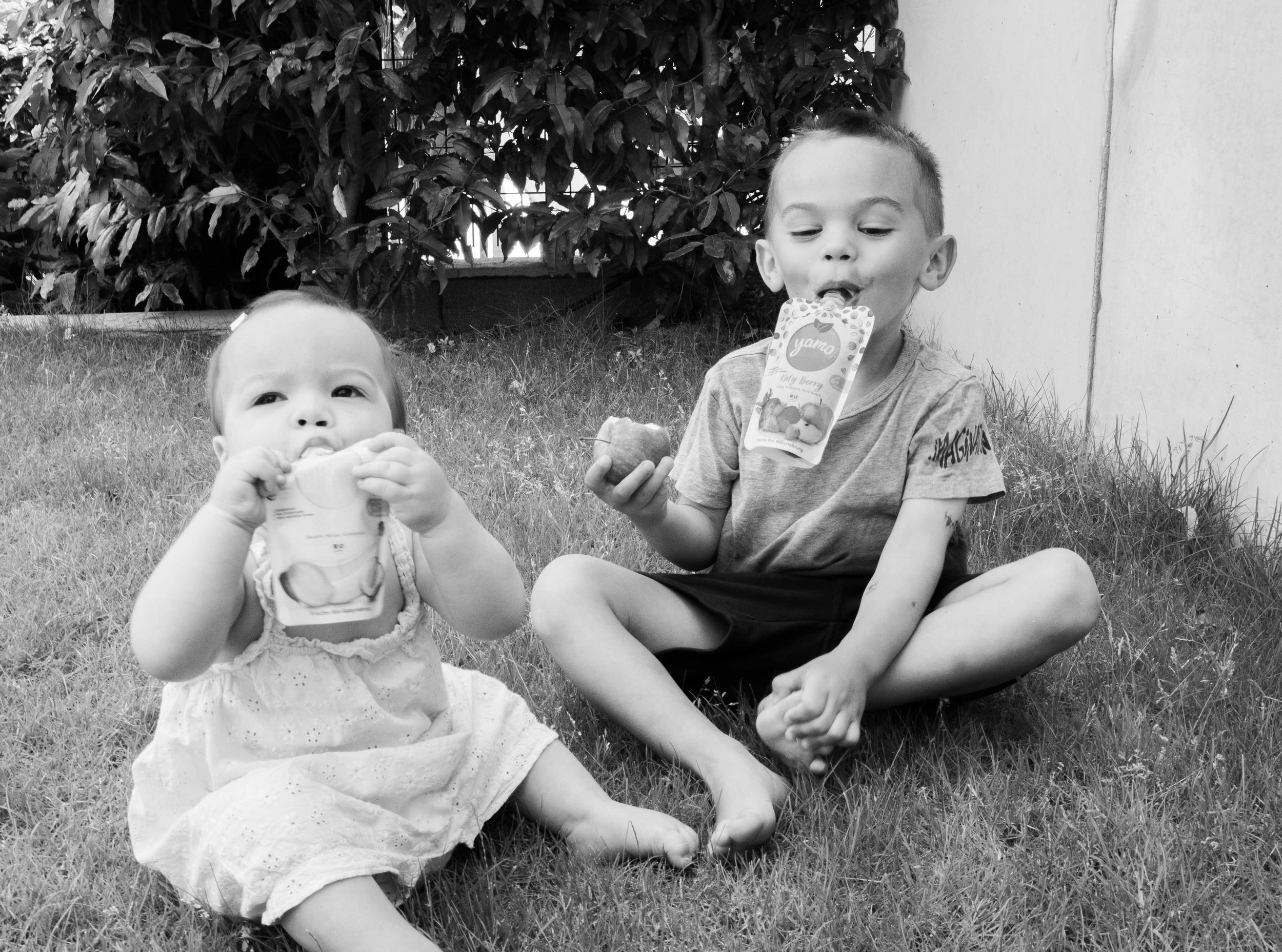 How do you select your raw product? where do they come from? Is it all made in Switzerland?
We only source our raw ingredients from suppliers offering the best bio quality that babies deserve. Our suppliers need to pass many tests in order to be able to supply us since baby food is rightfully a very restricted food category. That's how we can assure parents that YAMO baby food contains nothing else than natural, organic ingredients. Our suppliers are mostly in Switzerland, but for example Mango or Bananas don't grow here, so we buy them fair trade.
How long can you keep these pouches for?
All of our products can be stored refrigerated for several weeks. We don't think more is necessary since we want our baby food to be fresh and delicious. Out of the fridge, parents can easily take them with them for several hours and then feed to the kids, like you would do with a juice or a yoghurt.
How do you come up with the recipes? Do you personally taste all of your products?
We have inhouse food scientists and dieticians who develop recipes which offer the health benefits and nutriments, that the kids need. We then create various versions of those recipes and test them in daycare centers with parents and kids. And last but not least, we personally taste them in our office with the whole team and we only approve recipes which we would eat ourselves.
Do you deliver in Swiss Romande?
Yes we deliver everywhere in Switzerland. Either through our own shop yamo.bio or Coop at home. Soon YAMO will be available too in big retail stores en Suisse Romande.
Are you planning on translating your website to target the French speaking part of Switzerland or the expats?
We are planning on translating the website this summer and are looking forward to it! But we might need some help from our Suisse Romande community to help us with tricky translations! Does anyone want to help out a startup in need? Please feel free to contact us!
Tell us a fun story/anecdote about yamo?
Well, a lot of parents like YAMO also due to our funny product names like "Pirates of the Carrotean", "Mango Nr. 5" or "Avocado di Caprio". In almost every interview we are asked if the brainstorming process of those product names contains drinking alcohol in order to come up with such creative names. But I can assure you, we are always absolutely sober when we brainstorm those names. But it's true, these meetings are by far the funniest ones.